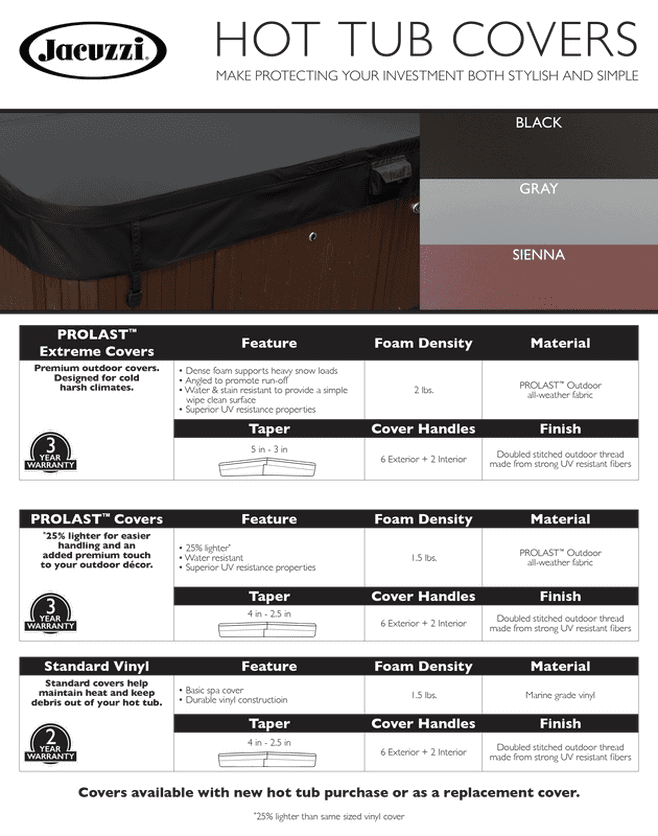 Engineered for durability from superior material, PROLAST™ Covers are 25% lighter for easier handling and add a premium touch to your outdoor décor.
These custom hot tub covers will properly fit your Jacuzzi® Hot Tub to increase energy efficiency and maintain cleaner water longer. 
PROLAST™ Extreme is designed for cold, harsh climates. PROLAST™ Extreme is double stitched using thread made from strong UV resistant fibers and added foam density to help protect your hot tub from cold climates.
Dense foam supports heavy snow loads
Angled to promote run-off
Water and stain resistant to provide a simple wipe clean surface
Superior UV resistance properties​
Lighter than vinyl covers for ease of use without losing durability
Tested for reliability under extreme conditions to ensure your hot tub stays protected
UV resistant and water resistant to maintain color and quality of your cover longer
Easy to clean with a nylon brush and mild soap with most stains
Made with durable, marine-grade material to ensure your hot tub is protected in any weather
Contact us for current specials and sale pricing. Please provide your contact information and we will be sure you are informed of all specials and sales.