THE SIMPLE, YET VERSATILE, SPA PATIO SOLUTION 
The innovative SmartDeck patio system provides a perfect solution to the problem of establishing a flat and level spa surface. Each panel locks together allowing the creation of small or large decks if desired. Textured surface and black color add to the deck's elegant appeal. The SmartDeck should be offered with every hot tub sale. Don't give away your profits to the concrete guy!
​​FEATURES & SPECS
Structural composite ribbing supports spa weight and more

Unique, interlocking modular design lets the customer choose the size and configuration that is perfect for their environment

Exclusive optional bullnose edging gives customers a clean and attractive appearance

Smart alternative to cement or wood deck construction

Four 24-inch square panels per box allows for easy shipping and handling

Great for permanent or temporary use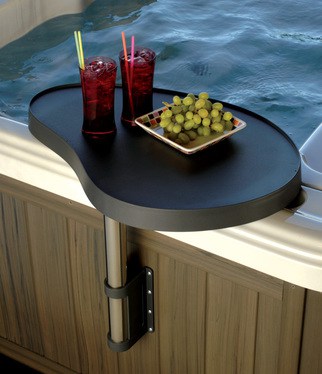 A Handy, Safe Place to Put Cell Phones, Beverages and More 

Sturdy and versatile, the SpaCaddy is a perfect solution to an age-old problem for spa users. Now all of that stuff – from food and drinks to reading materials and more – can be placed within easy reach. Makes a great gift for spa lovers!
​​FEATURES & SPECS
Sturdy reinforced resin polymer tray on an aluminum post

Swivels toward and away from the spa for easy access

Uses one composite mounting bracket with eight screws

27 inches long x 19 inches wide

Quickly mounts on almost any spa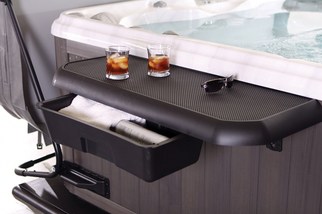 Convenient and Secure Storage Just Over the Edge 
The SmartBar comes standard with our SmartDrawer for convenient, secure storage. The SmartBar features a slip-resistant tread to keep valuables from shifting. Customers can safely put drinks, phones and spa accessories within arms reach with the SmartBar.
​​FEATURES & SPECS
Comes standard with a SmartDrawer

Slip-resistent surface

Installs quickly with two mounting brackets

39 inches long x 14 inches wide

Designed as a removable or permanent bar
---

The Smart, Convenient Way to Keep Towels Close, Clean and Dry 
TowelBar is one of those deceptively simple products that makes all the difference in spa convenience. It holds towels a short distance away from splashing water and steam and conveniently folds flat against the spa side when not in use.
​​FEATURES & SPECS
Folds flat or opens away from the spa to keep towels dry

Easy installation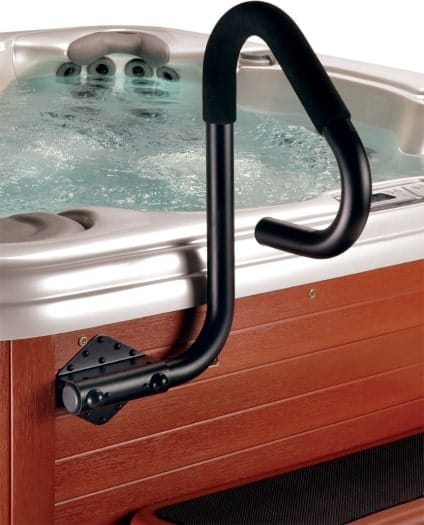 The Hand Rail that Even Works on Recessed Spas
Regardless of a spa's configuration, SmartRail makes entry and exit much safer. A rotating mounting bracket accommodates recessed spas as well as freestanding units. No spa should be without this important accessory.
​​FEATURES & SPECS
Rust-free powder-coated aluminum

Single, corrosion-free rotating bracket with 12 screws

10-minute installation

Slip-free, black foam grip

Mounts on almost any above-ground spa
Get a Grip on One of the Best Spa Accessories Available
The combination of water and slippery surfaces makes every spa a potential hazard. That's why we invented Safe-T-Rail. We believe this product has more upside sales potential than any other product we offer. Don't let a single customer-young or old-leave your showroom without considering a Safe-T-Rail for their spa.
​​FEATURES & SPECS
Ultra sturdy construction

5-minute installation

Two composite mounting brackets with 8 screws each

Slip-free, black foam grip

Mounts on most above-ground spas

Available in polished stainless steel and rust-free powder-coated aluminum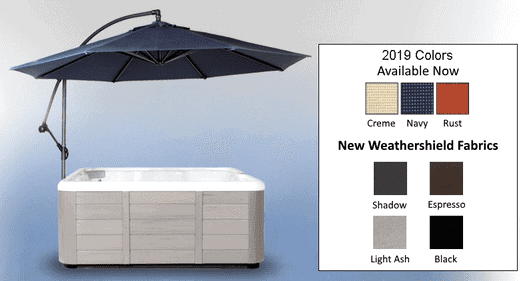 Your are Covered, Rain or Shine 
The Spa Side Umbrella™ is the leading alternative to traditional gazebos. Its versatility allows for 360 degrees of travel as well as a crank and tilt mechanism that affords trouble free operation. This stylish product will compliment any spa environment all the while protecting the spa owner from the elements. The Spa Side Umbrella is available in 7 stylish colors and requires no hardware or assembly.
​​FEATURES & SPECS
No hardware required.
Base features durable zinc plated and color-matched powder coat finish.
Umbrella frame constructed of powder coated aluminum.
Available in 7 attractive colors that add style to any spa environment.
Swivels 360º.
Umbrella easily removes from base for storage.
Umbrella folds neatly to side of spa when not in use.
Umbrella is fully assembled and ready to operate.
The Spa Side Umbrella is backed by a complete one year warranty. Umbrellas in general are prone to wind damage, therefore any wind-related damage incurred by the Spa Side Umbrella will be non-warrantable.
Contact us for current specials and sale pricing. Please provide your contact information and we will be sure you are informed of all specials and sales.