Outdoor cooking has become a favored method of summer cooking for people across the country and has been the backdrop of many lifelong memories.
For many, our memories may resemble something resembling hot coals and a charred burger with that classic hint of charcoal flame. But BBQs have come a long way, with more eco-friendly practices leading the way.
Green Mountain Grills (GMG) has taken this to a whole new level, creating a cooking experience that far exceeds tradition.
Not only have they forgone the typical gas or charcoal grills and replaced them with wood chips for an eco-friendly grill, but they've elevated the grilling experience in the process!
Keep reading to discover all the ways these grills have transformed backyard cooking, explore some top models that have left people raving, and discover some impressive accessories to diversify your menu!
Green Mountain Grills 101: So Much More Than Just Grilling…
The rise of Green Mountain Grills in the grilling world is no fluke.
Combining innovative technology with a passion for grilling, they've redefined outdoor cooking. GMG offers an experience, not just another backyard BBQ.
With precise temperature control, a wide range of models tailored for different needs, and a commitment to sustainability, they've truly transformed grilling from a mere hobby to an art.
And the best part? You don't need to be a BBQ maestro to operate these grills; they're user-friendly and perfect for both novices and pros.
Amazing Features of Premium Green Mountain Grills
Green Mountain Grills has risen in popularity in no small part due to their innovative features.
These grills have redefined grilling, providing a whole new experience that's more predictable (and delicious) than ever.
Digital Control and Monitoring
Have you ever been BBQing and found yourself wishing you could have more control over the fluctuating temperature of your grill?
You're not alone!
GMG took this challenge and created a line of grills that give you the control you're craving through their smart control system, allowing monitoring and control over your grill right from your phone!
With a simple touch, you can set your desired temperature within a 150°-550°F range, depending on the model, and adjust the temperature in 5° increments.
This precision control ensures your grill can meet your cooking needs even as they change from meal to meal.
Efficient Wood Pellet Burning
While charcoal leaves a district flavor profile behind on any food you throw in the BBQ, GMG has amped this flavor up in the most eco-friendly way by ditching gas and charcoal fuel sources altogether.
Instead, these grills use wood pellets to provide a more natural burn, keeping ash to a minimum, while providing an impressively consistent heat.
Better yet, through the use of premium pellets with unique combinations of wood, you can imbue your food with smoky hints of apple, maple, or hickory.
Durability and Design
Grills are an investment. One that should last you for many years to come. Green Mountain Grills does just that, with their precision design and high-quality materials.
While the unique combination of components works flawlessly together to create the perfect cooking experience, the robust build using a range of 12 to 14-gauge steel ensures longevity.
Best of all, with their turbo mode, you can enjoy outdoor cooking long after summer has passed!
Portability Options
These grills were made with more than backyard cooking in mind.
In fact, many models have been designed with portability in mind, ensuring good cooking can follow you anywhere.
While you may think portability is restricted to smaller models, GMG has broken the mold of what you can expect from a portable grill with their Big Pig Trailer Rig, a one-of-a-kind traveling grill!
Environmentally Friendly
One of the most appealing aspects of these grills, apart from the bold flavors and flexible cooking, is their eco-friendly design.
GMG has achieved this with their unique design, combining their venturi-style firebox with their precision auger system, ensuring every pellet's potential is used to the fullest.
Not only does this maintain the efficiency of your grill, but it also minimizes waste.
Furthermore, wood pellets are a renewable resource, unlike gas, ensuring each time you fire up your GMG grill, you're reducing your carbon footprint!
How do Green Mountain Grills Work?
Using a unique combination of elements, these grills create a completely controllable heat to achieve the ideal cooking environment for a variety of foods.
After adding your pellets to the feeder, the auger will slowly feed them into the firebox at the precise rate needed to achieve and maintain the temperature you've set.
As they enter the firebox, the pellets are exposed to a mix of air and fire, ensuring they are completely burned down to produce the least amount of waste possible.
The warmth created from the burning pellets rises, heating the heat shield above, which evenly distributes the heat throughout the grill.
This creates a convection oven, moving heat throughout the interior to evenly cook food at your desired temperature.
So how does the grill maintain the temperature you've set?
Great question!
Every 10 seconds, the interior sensor reads the temperature of the grill, adjusting the rate the pellets are being fed into the firebox, and changing the amount of air circulating inside.
This ensures your grill is only ever getting the perfect mix of pellets, air, and fire to maintain the temperature you've chosen.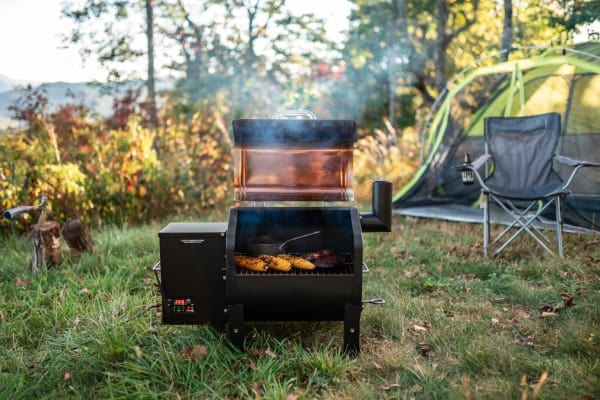 Best Green Mountain Grills To Fire Up Your Outdoor Cooking
Green Mountain Grills have designed a range of models that can complement a variety of lifestyles and needs.
Here's a look at some of the top models they offer.
1. GMG Daniel Boone
The GMG Daniel Boone offers a versatile cooking experience, with its peaked lid offering enough room to cook a stand-up chicken to perfection.
With its Sense-Mate thermal sensor, the ambient temperature of your grill will be monitored constantly, ensuring your grill expertly adapts to changing temperatures.
To maintain the coveted control this brand is known for, this model is outfitted with a digital control system, ensuring you can monitor and adjust your grill temperature with ease.
With a choice between a stunning all-black finish, or a chrome hood, this grill is sure to make its mark on your backyard.
2. Peak Prime
For something slightly larger, the GMG Peak is sure to please.
This model boasts a total of 658 square-inches of grill space and features a collapsible front shelf to maximize space.
Boasting a rotisserie mounting option to quickly shift from burgers to a whole bird, this model goes beyond traditional grilling.
With the sleek window built into the hood, gone will be the days of lifting the lid to check on your food, keeping temperatures steadier than ever.
What's more, with 12V Direct Power, this grill comes roaring to life quickly while maintaining efficient power consumption and maximizing the longevity of your pellets.
3. Ledge SS Prime
The Ledge-SS includes the same powerful control found in all prime models via the digital controller, ensuring monitoring and adjusting the temperature of your grill from afar is completely effortless.
This mid-side grill boasts a peaked lid for versatile cooking, and a side convenience tray to maximize your usable space, adding to the appeal of this model.
With the venturi-style firebox equipped on all Green Mountain Grills, this model creates a twirling cyclone of flame, ensuring heat is evenly distributed and maintained.
This system not only keeps temperatures at desired levels but also ensures pellets burn with minimal waste, bringing their efficiency even further.
4. Trek Model
If you enjoy the great outdoors and need a grill that can be easily packed up and taken with you, the Trek model is sure to be your perfect fit.
This ultra-portable grill weighs only 63 pounds, and can run on just 12V or 120AC, making it perfect for cooking on the road!
Boasting the same great features as the models above, this GMG grill provides the same great experience this brand is known for, just in a more compact design.
This model isn't only great for travelers and outdoor aficionados, but also for those needing a smaller model to fit their outdoor space, such as anyone working around a small balcony!
5. The Big Pig Trailer Rig: The Ultimate Cookout Solution
This model has taken portability to a whole new level.
No longer will you be confined to smaller grills each time you pack up and head out on an adventure.
With the Big Pig Trailer Rig, you can hook your grill right up to the back of your vehicle, bringing a premium cooking experience wherever you go.
This trailer has thought of it all. Featuring brakes, turn and tail lights, and side reflectors, it's the ultimate combination of a massive outdoor grill and a sleek trailer!
Best of all, this model is for far more than just smoking a pig to perfection. Whether you're grilling up steaks, burgers, or sausages at a tailgate or competing in a BBQ competition, this model can do it all with ease!
Cooking Flexibility Unlike Any Other
Green Mountain Grills goes far beyond grilling and offers a much broader range of cooking than you may have realized.
In fact, these grills are capable of:
Slow cooking
Barbequing
Smoking
Searing
Braising
Roasting
Baking
This makes it possible to cook any number of meals on your grill, no longer restricted to traditional BBQ.
From firing pizzas and baking pies, to searing steaks and perfecting rotisserie ribs, your options are endless.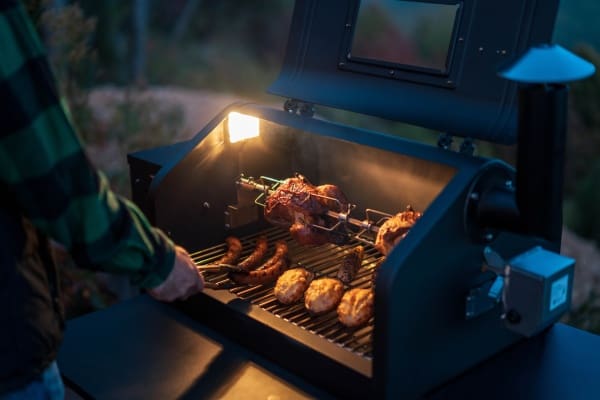 GMG Accessories To Amp Up Your Cooking
With such a variety of cooking styles, picking the right accessories is a crucial element in getting the most out of GMG.
When you think about all the possibilities of how you'll use your grill, what comes to mind?
Do you picture a family DIY pizza night?
Already dreaming up a pig roast to bring all your favorite people together?
While many meals can be cooked without any additional accessories, there may be some you'll want to consider that will match your unique needs.
A Wood-Fired Pizza Attachment
Home-fired pizza is a crave-worthy meal that simply can't be beat.
With a pizza attachment, you'll be able to transform your grill into a gourmet pizzeria, bringing the flavors you love to life without the delivery fee!
While you're at it, you may want to pair this attachment with a pizza peel to easily rotate your pizza in the oven for that perfect crispy crust!
A Rotisserie Kit
Whether you're hosting an event and want the perfect roasted chicken, or simply want to have effortless lunches with rotisserie chicken ready to use in your fridge, a rotisserie kit is a must.
With a few different sizes, you'll be able to find one that easily matches both your grill and your needs.
Better yet, these kits are for more than just chicken. From pork shoulders to ribs, this attachment brings slow roasting to your backyard.
A Thermal Blanket
Green Mountain Grills can be used all year long, and for winter cooking, a thermal blanket can maintain the efficiency you've come to expect.
Of course, when temperatures cool down, you'll need to burn more pellets to combat the chilled air outside, but a thermal blanket can lock heat in, keeping your pellet usage to a minimum.
Shop Green Mountain Grills in West Jordan & Springville
Living in Utah and looking for a way to bring the heat to your next BBQ or tailgate party?
At Take a Break Spas & Billiards, we've got everything you need! With our wide range of Green Mountain Grills, you're sure to find the perfect model to meet your culinary needs.
But why stop there?
Our showroom is packed with home and backyard leisure essentials, making us your one-stop shop for all your home enjoyment needs.
From hot tubs and swim spas to grills, pool tables, and massage chairs, we've got everything you need to elevate your home to dreamy new heights!
Visit one of our four showrooms spread throughout Utah, from American Fork and West Jordan, to Spanish Fork, and Springville, or contact your nearest location to learn more.